5 Tips For Creating An Engaging Website Design For Calgary Companies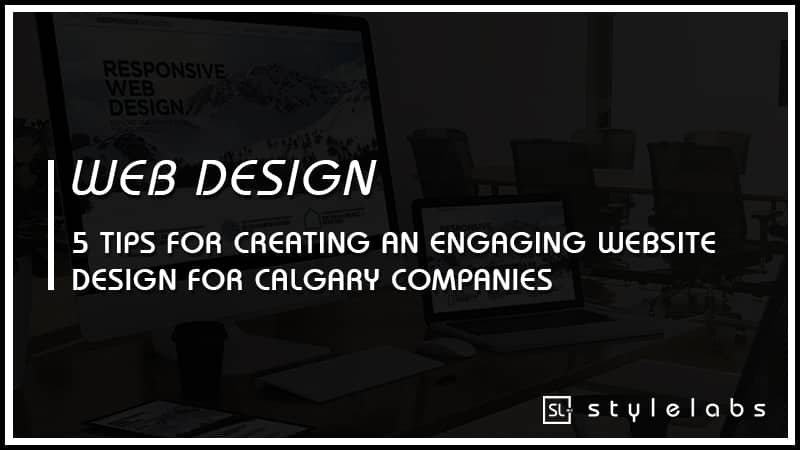 Creating an engaging website design for Calgary businesses is essential in today's competitive digital marketplace. Here are five tips to help you create a design that will capture the attention of potential customers and drive traffic to your site.
Our 5 Tips for Creating an Engaging Website Design
1. Establish Your Brand
Your website is an extension of your brand, so it's important to establish it properly in order to make a good first impression on visitors. Start by using your company logo and colours prominently throughout the design, and use consistent typography and imagery to reinforce the message.
2. Keep It Simple
When creating a website design, less is more. Too much clutter on the page can be overwhelming, so keep your design clean and uncluttered with plenty of white space around text and images that draw attention to the most important elements of your page.
3. Make Navigation Easy
The navigation bar should be easy for visitors to use and understand; organize content into categories that are easy for visitors to find what they're looking for quickly. Ensure there's a clear call-to-action on each page, such as 'Contact Us' or 'Sign Up Now', which encourages them to take action.
4. Use High-Quality Imagery
High-quality visuals can help make any website more attractive and engaging; include large images alongside relevant text content - this will help break up long stretches of text while also providing visual interest that can catch the eye of visitors and pull them into exploring more pages on your site.
5. Prioritise Mobile Optimization
In today's digital landscape, it's essential for business websites to be optimized for mobile phones & tablet devices - this means designing sites with responsive layouts and ensuring all content is easily accessible from handheld devices. Mobile optimization should never be viewed as an afterthought; prioritize it from the beginning stages of web design planning in order to ensure success in this important area.
Click here to book a free consultation. We're happy to take the time to walk you through your options and best practices. We look forward to speaking with you.
WE GET YOU, BECAUSE WE ARE YOU!
You won't be hiring just a web designer to build a website nor hire a marketer to build your digital presence - You will have both and much more! What makes us different is that we are Entrepreneurs that specialize in marketing and technology.
There's a certain amount of maturity and experience you need in order to build a functioning ecosystem. You need someone who's been there, who's failed, rebounded, and succeeded. You need someone who understands where the blind spots are and how to mitigate them. Could StyleLabs be a good fit? Only one way to find out - contact us below, book a FREE Consultation, or call us at 1-855-681-1932.