The Benefits of Investing in Professional Website Design for Calgary Businesses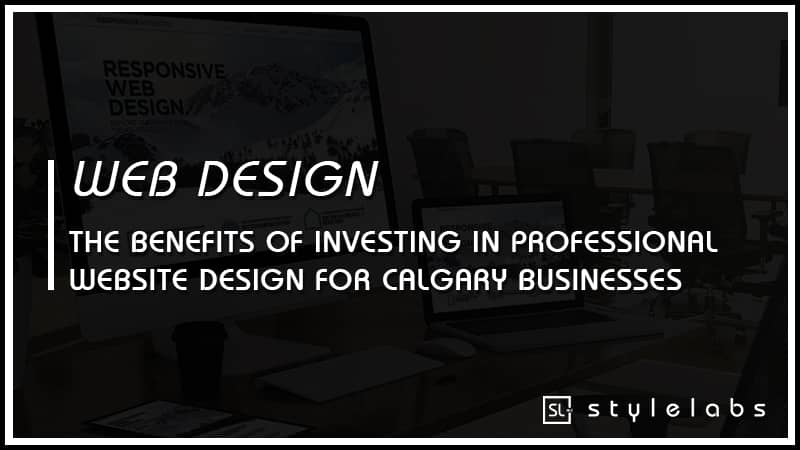 Having a website can provide many benefits to a business, but it's important to invest in professional website design if you want your website to be successful (optimization, conversion, education, engagement) Professional web design services offer several advantages that are essential for your Calgary based business. The debate for many businesses is whether they can afford to invest or do they take a cheaper or DIY website design approach. We challenge you to consider… Can you afford not to? How many leads are you losing? What are you leaving on the table?
Visibility Optimization
One of the key benefits of investing in professional website design is increased visibility online. Professional designers know how to position your business for maximum visibility within search engine results pages. They understand keyword optimization, content relevance, link building and other techniques used to improve the ranking of your website so that customers can easily find your services when searching online.
Strong Coding Practices
High-quality code is essential for any successful website; it ensures that the user experience is quick and efficient and that data stays secure from hackers and viruses. Professional web designers understand coding best practices and use modern technologies to ensure your site works well across all platforms.
Mobile Responsive Design
The majority of internet users now access websites through mobile devices, so it's important that your site is designed with this in mind. Professional web designers understand mobile responsive design and can make sure your website looks great on any device or screen size. This helps ensure a positive user experience which leads to more conversions and better overall results for your business.
Up-to-Date on Industry Trends & New Technologies
Finally, working with an experienced professional web designer keeps you up-to-date on all the latest trends & technologies available today such as virtual reality (VR), artificial intelligence (AI) and voice recognition technologies – all of which have become increasingly important components of modern websites. A good designer will be able to advise you on which new technologies would work best for your particular project & help ensure that your website stays ahead of the competition over time.
At the end of the day, there are many benefits associated with investing in professional website design services rather than settling for a DIY solution; from increased visibility, strong coding practices & mobile responsive design to staying ahead of industry trends & taking advantage of new technology opportunities – having an expertly designed site provides an edge over competitors who don't prioritize these elements when creating their own sites.

Click here to book a free consultation. We're happy to take the time to walk you through your options and best practices. We look forward to speaking with you.
WE GET YOU, BECAUSE WE ARE YOU!
You won't be hiring just a web designer to build a website nor hire a marketer to build your digital presence - You will have both and much more! What makes us different is that we are Entrepreneurs that specialize in marketing and technology.
There's a certain amount of maturity and experience you need in order to build a functioning ecosystem. You need someone who's been there, who's failed, rebounded, and succeeded. You need someone who understands where the blind spots are and how to mitigate them. Could StyleLabs be a good fit? Only one way to find out - contact us below, book a FREE Consultation, or call us at 1-855-681-1932.